HIGH WIND UMBRELLAS
With Hawaii's strong trade winds, a typical market style umbrella just does not last. You need to close them when the trade winds start to blow, or they can become airborne objects, endangering property or people. We have had clients call us after their umbrellas have taken flight and landed through a car windshield or in another instance injured visitors sitting downwind at their hotel pool.
Our High Wind Umbrella Structures can solve this problem. A diverse line of commercial grade umbrellas, designed and fabricated for extreme weather conditions using the best quality materials to provide strength, elegance and durability. They are designed to be long lasting, easy to operate and most importantly, they can handle our high winds, providing shade from our strong sun when we need it!

RETRACTABLE RANGE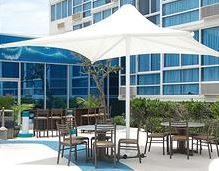 Our Retractable Range is one of our most popular ranges of umbrellas. These retractable umbrellas are designed to withstand winds of up to 45 mph when open. They are a great match for our trade winds. When you do need to retract them a well designed gearing mechanism is contained within the column and easily activated by a removable handle.
Retractable Shapes and Sizes:
Square: 10ft., 12ft., 13ft.
Hexagon: 14ft., 16ft., 18ft.
Rectangle: 10ft. x 13ft.
CANTILEVER RANGE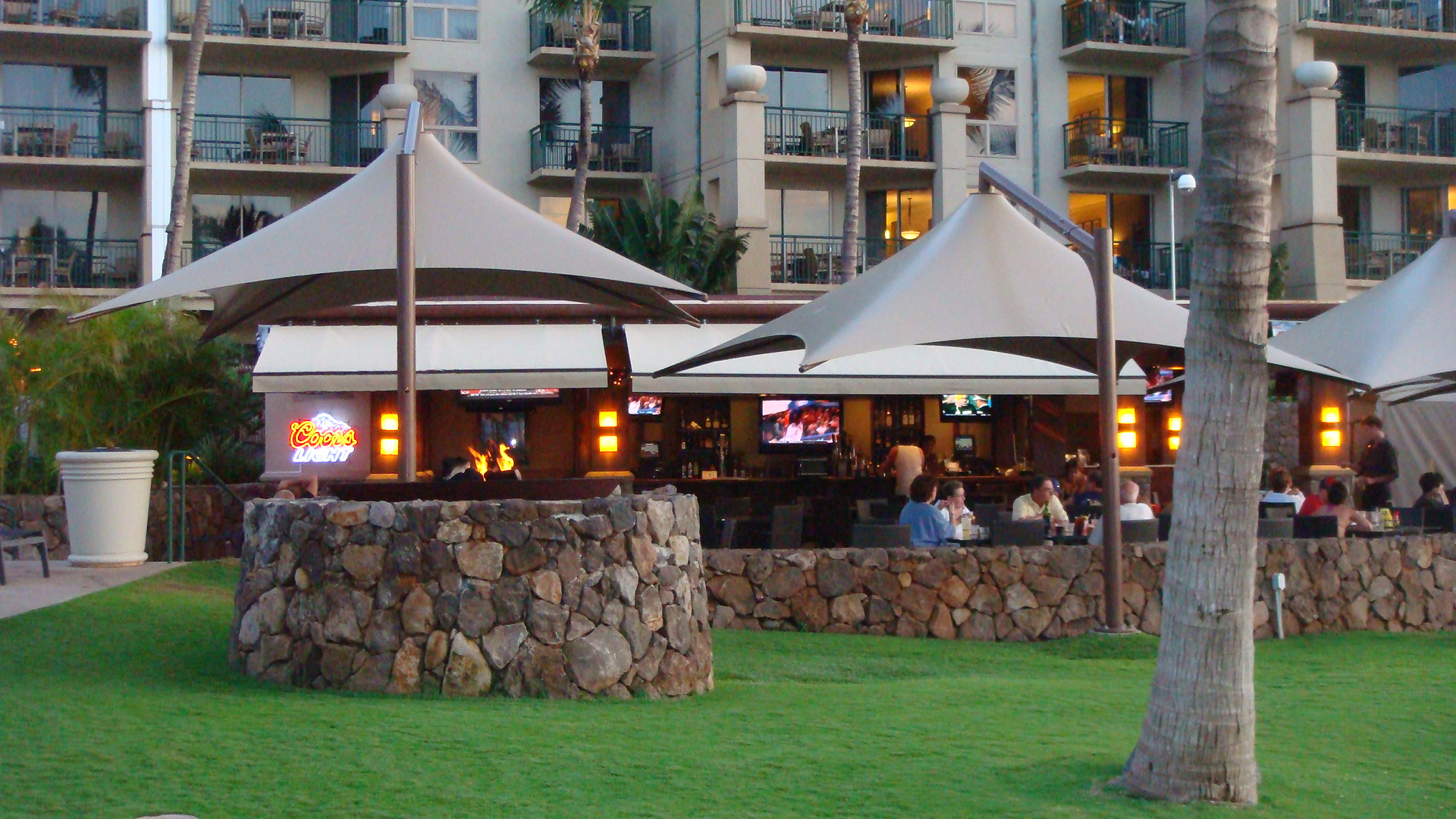 Our Cantilever Range is a retractable, cantilevered model that provides unencumbered space underneath …as it does not have a center column. Wind rated to 45 mph when open, these versatile umbrellas can be retracted and can even be pivoted with our optional pivot base.
Cantilever Shapes and Sizes:
Square: 10ft., 12ft., 13ft., 16ft.
Hexagon: 14ft., 16ft., 18ft.
Rectangle: 10ft. x 13ft.
FIXED UMBRELLA RANGE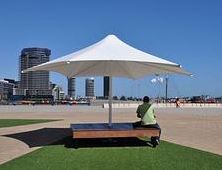 Our Fixed Umbrella Range are non-retractable umbrellas engineered and manufactured using state of the art materials for strength, elegance and durability. The combination of structural grade aluminum frames and architectural grade PFVD canopies make them suitable for Hawaii's harshest conditions and are wind rated to 75 mph. The canopy can be lowered in the event of a severe storm warning.
Fixed Umbrella Shapes and Sizes:
Square: 10ft., 12ft., 13ft.
Hexagon: 14ft., 16ft., 18ft.
Rectangle: 10ft. x 13ft.
KEY FEATURES

Our range includes cantilevered, center mounted and retractable umbrellas.

All High Wind Umbrella Structures are 100% weatherproof, with UV protected fabric and available in different

colors and sizes.

Architectural grade PVDF canopy (Ferrari 502 fabric) offers a low maintenance, heat reflective, UV treated

membrane with

stainless steel edge cables.

Canopy can be printed with high quality graphics and lettering.

All metal work is either structural grade aluminum or stainless steel with a powder coat finish.

Removable handle to raise and lower canopy (retractable models)

Optional Features: Low voltage lights; links for square canopies; vertical sides

Warranties: 10-year anti-rust; 5-year on frame; 2-years on canopy
Call us to assist you in determining which model and size works best for your particular needs.
VISIT PHOTO GALLERY TO SEE UMBRELLA EXAMPLESCLICK FOR A FREE ESTIMATE