We love our Motorized Retractable Screens …and we know that you will too!
Living in windy, sun drenched Hawaii can take a toll on people and property. Solar screens can be the most dramatic improvements that you can make to your home or business space. We love hearing our customer's excitement after their screens are installed. Our screen designs are approved by many Condominiums, Resorts and Homeowner Associations. We are happy to provide guidance through the process, and find the best solar screen solution for your residence, business or organization.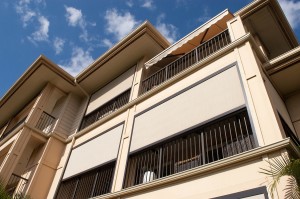 You should consider a screen if…
– You want to cool of the inside of your property but still want to retain your outside view.
– You have outdoor space that you cannot use to its full potential because of the sun or wind
– You would like to increase your daytime privacy and still retain your view.
– You have tried and are tired of the low budget screens that blow around and need to be replaced.
– Your business is not maximizing its potential space & opportunities because your customers are
not comfortable being out in the sun or wind.
Our top-of-the-line retractable screens are manufactured in the USA by industry-leading manufacturers

We are proud to work with screen manufacturers that build the strongest, largest and best engineered full retention solar screens in the industry, in a factories that are ISO9001 certified. Our partners continually invest to further improve the quality and performance of their screen lines. This is why we know when we install your "Best in Class" screen that you will be happy with your purchase, and that your 10-year warranty is as good as gold.
Up to 25 feet in length with one screen

Can withstand winds up to 75 mph

Large selection of solar fabrics

Motorized (with handheld remote, wall remote and mobile app) or Manual operation available

10 color choices for powder coating


Custom screen printing and powder coating available

Will meet your protection needs without compromising your design aesthetic

10-year screen warranty, 5-year motor warranty

Read more…
Heat Protection: Exterior vs. Interior Screens
PHOTO GALLERYCONTACT US FOR A FREE ESTIMATESCREEN DOORSAWNINGSSHADE STRUCTURES