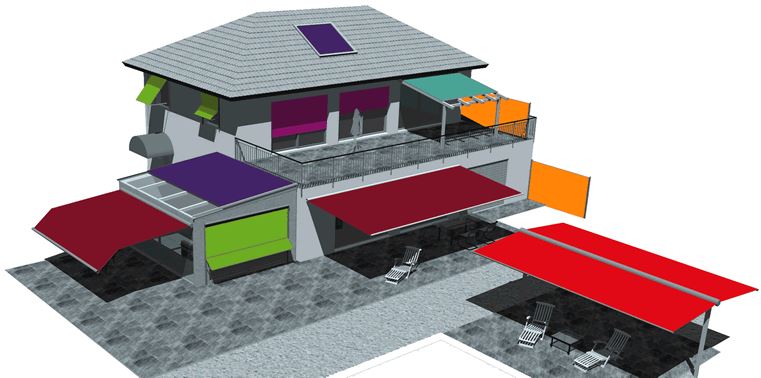 RETRACTABLE AWNINGS & FABRIC ROOFS
With a broad selection of awning products, SkyShades Hawaii can help you to create a comfortable outdoor environment. We offer the highest quality of retractable awnings and fabric roofs, all designed to handle the demanding conditions of outdoor life in Hawaii. The intense sun, strong winds and damaging salt air of Hawaii will thoroughly test all outdoor product.
Where lesser products will fail, our range of retractable awnings and roofs will stand up to the test. We offer a 10-year warranty to back them up. Photo Gallery >
Sun Protection when you need it – Open skies and starry nights when you don't!
Our retractable awnings and shade roofs can handle all of your commercial or residential shading needs.
From manually operated awnings to motorized awnings controlled by wireless remote controllers, automation controllers and sun/wind sensors that allow your awning to continue protecting your property without you being there… we offer the best solution for your outdoor space.
Browse the tabs to see all products >

Lateral (Folding) Arm Awnings
A retractable awning or lateral arm awing is entirely supported from a building and is constructed so that the awning cover and supporting frame retract completely against the building. In the retracted position, the awning is relieved from wind or rain pressure. Retractable awning can be mounted on a wall, from the rafters or on the roof.
We offer many different types of lateral arm awnings as every site and shade requirement is different.
Length: up to 40 feet
Projection: up to 13 feet
Telescoping Arm Awnings
When you really need the strongest retractable awnings available or if you have a lower than desired mounting height, you should consider a Telescoping Arm Retractable Awning.
The design and strength of telescoping arms versus traditional lateral arms can handle 25% stronger winds and longer projections. Of course you will need to have a sufficient structural support available to handle these increased loads.
The telescoping arm technology utilizes patented gas pressure cylinders for a constant tension of the fabric at any arm position. Telescoping arms will keep the awning fabric flatter and under more tension, which results in a more streamlined looking awning cover.
Length: up to 39 feet
Projection: 6'-6" up to 16'-5"
Cassette Awnings
We offer Semi-Cassette and Full-Cassette awnings for a modern, elegant look that will protect and increase the lifespan of your awning fabric while adding a streamlined look to compliment your home or building.
Semi-Cassette Awnings
Semi-Cassette awnings encapsulate the fabric roller for added protection and increased lifespan of your awning cover. The front bar cover of the awning is sculpted to fit tightly into an integrated awning cover creating a top seal and protection for your awning cover. While the awnings arms are exposed, they are hidden from view by the fabric valance when not in use.
Length: up to 20 feet
Projections: up to 11'-6"
Full-Cassette Awnings
Our Full-Cassette awnings offer the ultimate combination of form and function.The clean lines and slim profiles offer a very appealing look that will blend with any type of building style. The completely sealed cassette housing fully protects both your fabric cover and awning arms, thus guaranteeing a long, low maintenance life for your awning.
Length: up to 20 feet (Special order units to 45 feet in length)
Projections: up to 11'-6"
Retractable Fabric Roofs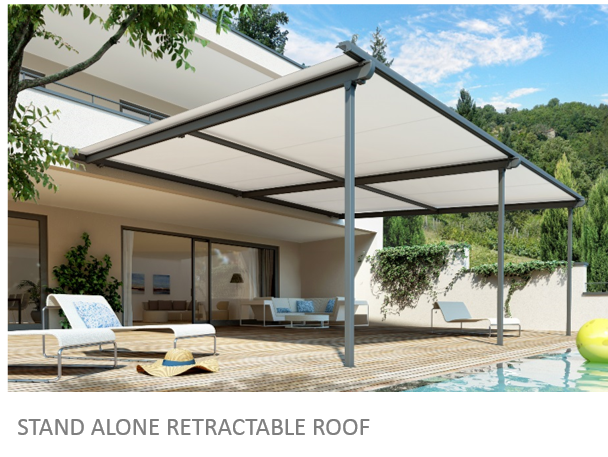 If you require a larger, more permanent outdoor shade area, we have many options in retractable fabric roofs that will give you the protection that you are looking for. These are perfect for adding a large shade footprint off of your home, for your restaurant or for any outdoor space where you need protection from sun and rain.
If you already have an existing trellis or pergola that is not meeting your shade protections needs, we can design a retractable fabric roof that will fit onto your existing trellis or pergola structure or we can offer a self contained, stand alone unit with it's own columns and rafters that will attach cleanly to your existing building.
Retractable Awning Options

We believe our retractable awnings and roofs can create the PERFECT solution for your outdoor shade needs
P – for PROTECTION. Create a comfortable and safe outdoor space. Control the sun, rain and wind. Add Privacy if needed.
E – for EXTENDED LIVING. You have a functional outdoor space that you can now enjoy.
R – for REWARDING. The sun takes a toll on us and your family and customers will be happy to have a place to escape.
F – for FUNCTIONALITY. Manual and motorized operation. Timers, wind and sun sensors make your retractable shade easy to use.
E – for ELEGANCE. Our wide variety of design styles, fabric and color selections and operation methods will enhance your property.
C – for COST EFFECTIVE. Your return on investment can be achieved through energy savings and the added value to your property.
T – for TIMING. You are now in control of your outdoor space. Sun protection when you need it – open skies when you don't.